⇢ #15 . . . cards
28 / 11 / 2022
my small card haul! I've been on a card collecting kick lately, not sure why... I wasn't even particularly interested in collecting cards when I was younger. I have a few tcgs* I'm interested in collecting but for the most part I love illustration / collection / telephone cards. Currently planning on making a catalogue of different collection card sets _(:3\

(*also I know collection cards are still labeled as trading cards, what I mean is like, I'm less interested in cards like ygo! or mtg and more into cards that are have full illustrations / character art... I hope that makes sense ^^;;)


been obsessed with these korean artist cards lately! especially DOMI WORLD (middle and left card), the one on the right is Coral Tree. I'm probably going to try and put another order through for more of their cards.

I also got some Daiso card sleeves... the big one with the keychain is from a separate seller though.

DOMI WORLD + Coral Tree Cards . . . . . . . . . ₩10,000
Daiso Card Holders . . . . . . . . . ₩7000
kirarin revo, ojamajo doremi, digi charat, touhou, sanrio pokopon, shinchan, sound voltex

got most of these cards for a few cents, I especially love the di gi charat cards. I love koge-donbo's art so I'm always happy to find illustration cards from her. I absolutely love the art style on the touhou card and might try to collect some other cards from the set.

I also got a random assortment of cards (on the left) but my fave would probably be the pop'n music card! it's another card set that I'm interested in collecting *sighs*, but from a quick search I think I'm aiming to just get the full illustration cards and not the character cards.
yes I only made this order to get the kawoshin card
my eva cards!! there are tons of evangelion card sets though I'm not crazy enough to collect them all. the kawoshin one is from the 1996 Cardass Masters Vol. 1 and the four cards on the right are the 1997-1998 Calbee cards. Iirc they were packaged together with a bag of Calbee's potato chips.

while looking for more info I found this kawoshin postcard... I'll definitely try to find more kawoshin / reisuka paper goods in the future.

(and yes I can't be bothered to look up what the bottom left shinji card is from, I only bought it because it was dirt cheap)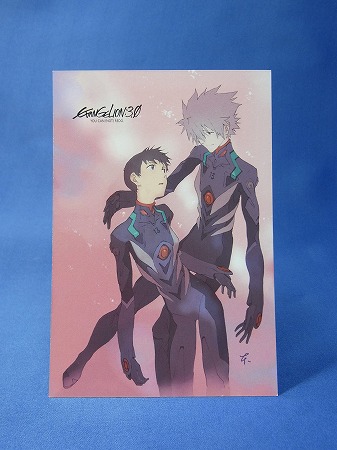 another impulse buy of mine is this Reiko Shimizu tarot card set! other than illustration cards I've also been into really pretty tarot sets... I think I've only got two or three sets right now though. I love older manga art and this just reminds me that the next time I try to do some online shopping I should be on the lookout for some furoku (tho I'm sure this tarot set isn't one, it just reminded me of it)
lastly a closeup of my favorite cards from the haul
Miracle Tarot Cards Illustrated by Reiko Shimizu . . . . . . . . . ¥120
A whole bunch of other cards . . . . . . . . . ¥1,300
(literally half of the ¥1,300 is from the kawoshin card and crayon shin chan card _(:3\)